About Us
Established in 1964, Binder is a family-centric business committed to delivering fast, reliable and environmentally responsible services with the customer at the heart of everything we do.
We are proud to provide support to a community of over 25,000 clients across the breadth of the UK, with emergency support available 24/7.
All aspects of our business are accredited to the international standard ISO 9001. We operate an Environmental System to ISO 14001 and ISO45001 and are accredited by the Environment Agency with IPPC Licence No. RP3536SW.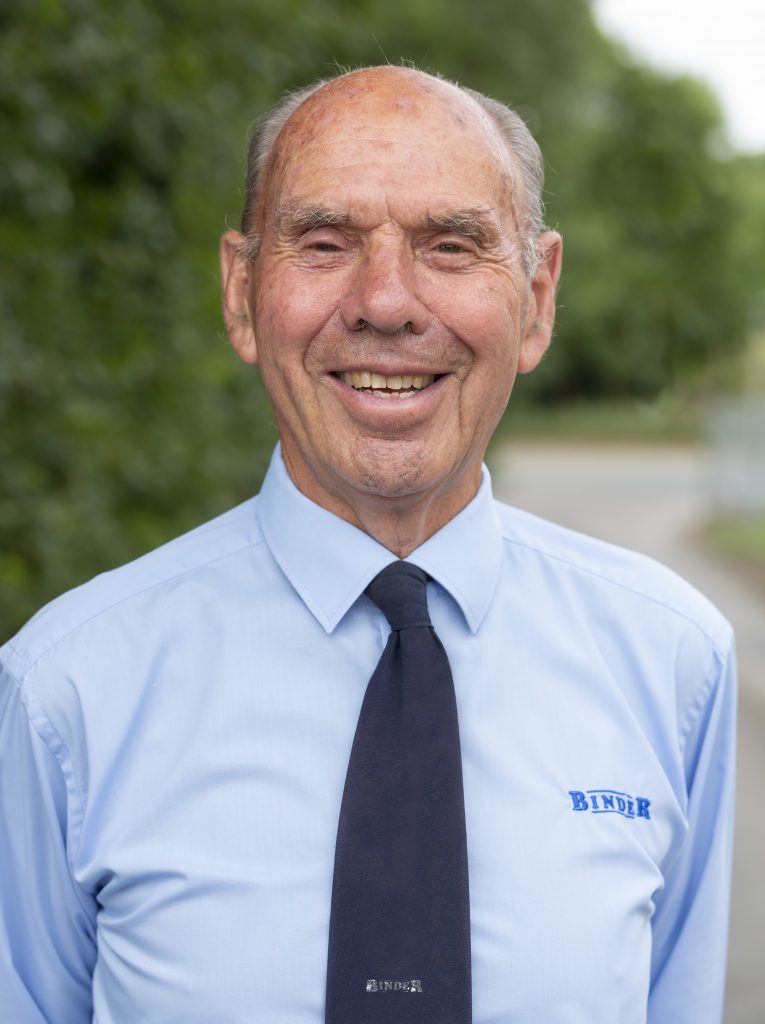 Wallace Binder, Chairman & Founder.
Wallace established the Binder business back in 1964 and has over 50 years experience in the industry. He sits on the British Water board of advisors alongside the Environmental Agency, providing expert advice regarding the maintenance of package and water treatment plants.
The initial business offering included producing concrete products including sections for septic tanks before diversifying into installation and maintenance. As technology improved, the business expanded it's services to include manufacturing and servicing of sewage treatment plants.
Fast forward to 2022 and the business now employs over 90 staff and offers a wide range of services including installation, maintenance and repair, tankering and an onsite treatment facility.
Ed Binder, Director of IT and Certifications.
Ed joined the business at 18 years old, soon after he left school and is a qualified electrician. He has worked in every department of the business and is responsible for IT, Compliance, Marketing and operations particularly within the tankering and servicing departments.
Ed has worked his way up through the business and before his role as Director he worked with a variety of commercial customers in his role as Key Account Manager.
He is responsible for auditing in addition to ensuring Binder remains compliant with various accreditations and policies. Ed is also WAMITAB certified and holds the IOSH Managing Safely certification and an HGV license.
Richard Binder, Director of Servicing, Tankering & Finance.
Richard is the youngest son of Chairman Wallace Binder and started working for the business at just 16 years old. He is the CPC license holder for the company and has primary responsibility for servicing, tankering, accounts and stores.
Richard is WAMITAB (Waste Management Industry and Advisory Board) certified for Waste Management Operations.
Charles Binder, Director of Construction & Sewage Works.
Charles is the eldest son of Chairman Wallace and started work at Binder at 16 years old. He completed his bricklaying apprenticeship top in class, and moved into installation at 21.
Furthermore, Charles is WAMITAB (Waste Management Industry and Advisory Board) certified and has over 40 years experience in the installation of waste water plants.
He has worked with leading manufacturers in package treatment plants. He specialises in complex installations and has managed major projects across East Anglia.
Shaun Prendergast, Director of HR & Key Accounts.
Shaun joined the business in 2011. He has a wealth of knowledge in all aspects of wastewater treatment, maintenance and installation for a vast variety of clients.
Shaun spent the first 26 years of his career working for both a local authority and subsidiary of Anglian Water managing the maintenance and repair of local village pumping stations and treatment plants across Suffolk.
Shaun joined Binder as an electrician and moved into the role of Director after just 3 years. His responsibilities include HR Management and managing commercial operations such as tendering, installation and refurbishment.